The Best iPhone and iPad Apps That Make You Money
---
Can you believe it's been over 10 years since the first iPhone launched? June 29, 2007. It really has revolutionised the industry. There are now plenty of smartphone handsets out there for you to choose from and it is said that 36 percent of the world's population now owns a smartphone of some kind.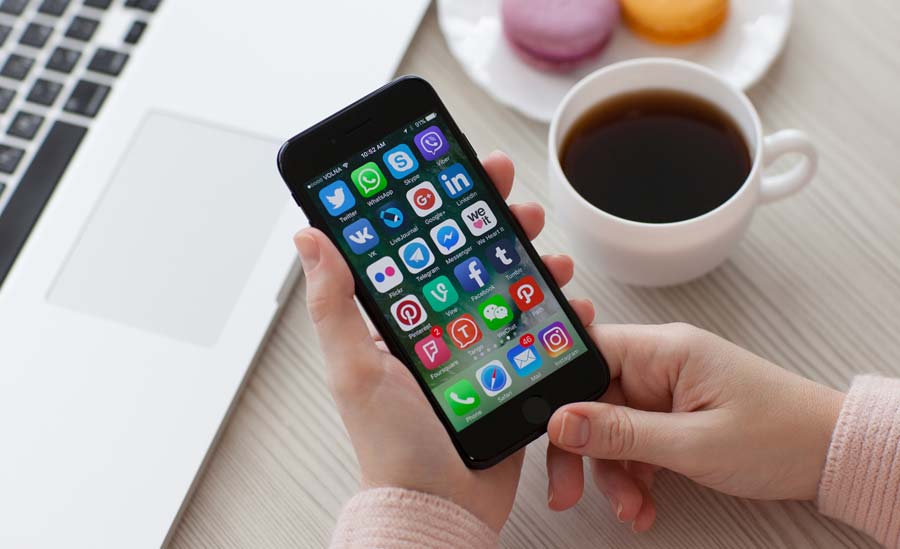 Every few months, a new handset crashes through into market place promising eager fans an ever increasing slew of features to help make our lives easier. Every vendor has its own app store that allows owners to download the latest, greatest add-ons. But there's a common theme - most of these mobile applications have been created with the sole intention of making its developer money.
So what about you? Have you ever wondered if there was a way to make some easy cash without learning the art of development? If so, then maybe it's time to start looking at apps that can actually make YOU some money. If you're an Android user, take a look at our money making apps for Android. If you're an iPhone user, read on...
1) Earning Perks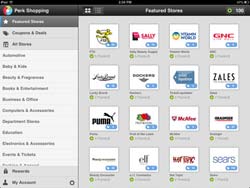 Perk is one of the most popular mobile rewards programs available on iOS and Android. The premise is simple - download the free app and then use it to earn points when you shop, search, watch videos and share stuff with your friends. When you have enough points, redeem them for rewards such as cash, gift cards or airline miles.
Perk Shopping is becoming increasingly popular with brands who are looking to market their products to new audiences. The website claims to have more than 3,000 stores listed in the Perk Shopping app and you can shop and find coupons from brands including Target, Macy's, Best Buy, Groupon and more.
And you're not just limited to shopping. You can also download Perk rewards apps for search (Perk Search) and video watching (Perk TV).
---
2) Become a Field Agent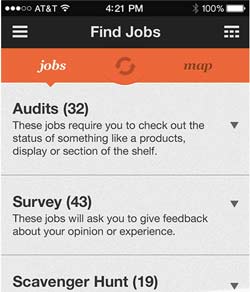 Want to become the James Bond of field research? Cool. Unholster your iPhone and download the Field Agent App. Once you've created an account and logged in, you can browse a list of 'jobs' which need to be completed. To give you an example, a given task might include capturing a photo and the price of a specific item in a nearby store. Unlike Mr Bond, you get the choice of missions and the 'Map View' can be used to ensure you don't have to travel far.
Not up for a little spy work? No problem. If you like something a little more sedate then why not fill out one of the many surveys presented in Field Agent. Easy work accompanied by the clink of pennies in the piggy bank.
Each job you complete pays between $3 and $12 and can be withdrawn via your Paypal account.
One tip: once you accept your task you have two hours to complete it. Get cracking!
---
3) Get Paid To Shop And Eat
I love food. Really, I do. So you can imagine my excitement when I heard about Easy Shift, an app that pays you for, amongst other things, eating.
Like Field Agent, the app creators, a company called Quri, pay money in return for market research. Yes, it's more spy work, but think of it as ensuring prices are kept low. Payments for each 'Shift' you complete vary and, like Field Agent, you can withdraw money through your Paypal account, normally within 48 hours of a task being completed.
The time limits for each piece of work vary. Some may be open for hours, others for far less time. However, there is a reservation limit that prevents you from re-reserving a Shift if you don't complete it in time.
---
4) Paid-To-Take Surveys
Back in the mists of time, long before smartphones appeared, market research was a drawn out, tedious task. Sure, you got paid for taking part in a survey but the process was far from simple and you normally had to wait what seemed like an age to be paid. Good bye bad old days, hello survey.com.
In the early days, this app was pretty limited but, more recently, there's been an explosion of companies wanting to find out what their customers think of goods and services provided.
There is a payment threshold of $7.50 and you're normally paid within two days of completing a survey. Money is sent via PayPal which makes survey.com a fast and efficient way of making some easy money.
---
5) Form a Gym Pact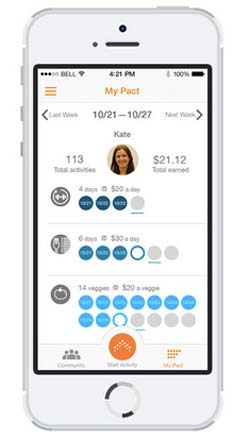 Are you one of those people who is willing to go the extra mile? How about pushing one more rep on the bench press? Maybe you're more the kind of guy, or gal, who glories in the burn of lactic acid as you pump out one extra squat under a 300lb bar?
Hey, I admire you. I really do. The effort and willpower that goes into forging a pristine physic is amazing. But how about another incentive? Money!
That's right, you can get a little extra payoff from your blood, sweat and tears by downloading Pact to your iPhone.
The app works by tracking your time in the gym. You commit a certain amount of money into a huge pot of cash and, if you maintain your agreed schedule, you can up to $5 week from other users who fall by the wayside.
Beautiful idea: get fit, crush the competition and earn some money back.
6) App Trailers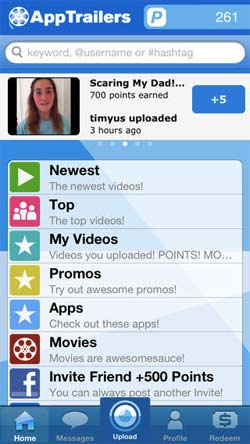 The world has gone crazy! No, really. Paid surveys and a little bit of sleuthing on the side are one thing, but now you have the chance to get cash in return for watching films.
At the heart of App Trailers is a system that rewards you with points in return of watching trailers of Hot Apps and Movies uploaded by users of the application.
Your points can be redeemed as hard currency through your Paypal account or as credits for other services such as buying other apps, Amazon and Starbucks gifts cards. The sky is pretty much the limit here.
But let's not stop there. There's an opportunity to make even more cash. Simply upload your own movies, collect 'likes' and your account will be credited with corresponding funds.
---
7) Swagbucks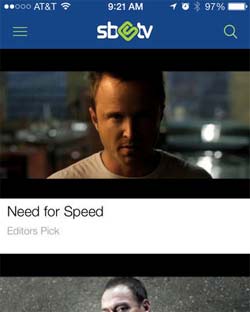 Gift cards and rewards in return for simply filling out a survey. It's a tried and tested way of making some extra money that is still popular in the internet age. Swagbucks is a hugely popular app with a thriving community behind the scenes. To date, those users have have earned over $60,000,000 between them.
There are a number of ways to earn what the company calls Swagbucks. Download the app, create an account then simply choose from a number of options such as shop, watch, play and answer. Complete the tasks and your account will be credited. Payouts aren't huge, but there is a huge number of options for redeeming your Swagbucks.
If you're stuck for ideas about how to spend your earnings why not drop by the site and look at how members use the money? Some great ideas there.
---
On the next page we look at numbers 8 to 14 of the best iPhone and iPad apps that make you money as well as a list of other money making apps you might want to consider.
8) Ibotta
Ibotta is one of the more interesting apps we found on the web. Take the concept of a coupon code site, mash it up with set tasks members have to complete and, BOOM! You've got coupons on nitrous oxide.
You get the idea? Download the app, choose from a selection of tasks and when you've successfully finished, deals at your favorite retailers will be unlocked. Typically, most of the vouchers have a higher redemption value than those we found on some of the big coupon code sites.
But that's not all! There are two other ways of earning through Ibotta: upload receipts and by linking any loyalty accounts you might have to your Ibotta account.
The receipt upload feature is effectively a cash back option. After scanning the product bar code and uploading a photo, money will be credited to your account.
Linking your loyalty card is another interesting idea. You'll still have to complete a series of tasks but you have the added option of adding points to your card.
---
9) Money Back From Shopkick
You want a new flat screen TV but you have a dilemma: it's about $200 more than you can really afford to pay. Now, in most cases, the sensible option would be to put off your purchase until you have more money. This is where Shopkick comes to the rescue with a massive selection of incentives.
This app, which is also available for Android devices, gives you incentives; "kicks". Every time you you check in at a specific shop, scan or purchase an item you are rewarded with a kick. These kicks can then be exchange for discounts that are sent out by participating retailers. And if that wasn't enough, you can earn extra kicks from referring friends - the Shopkicks app can send messages to your contact list or connect to your Facebook account (if you allow it).
---
10) FeaturePoints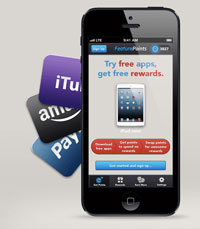 If you're someone who likes to try new mobile apps then FeaturePoints for iOS and Android devices might be worth a look. FeaturePoints rewards you with points for downloading free apps.
As your earned points increase you can redeem them through PayPal, Amazon gift cards and iTunes gift cards. There are also other rewards, such as a referral bonus (you receive 50% of the points earned by anyone you refer).
Be aware that you have to do a little bit more than just install the free apps that you download - you have to use them for up to a minute and complete any available registrations or tutorials.
---
11) Ebates - Cash Back
With over 1,800 stores and millions of products available in its search engine, Ebates is one of the biggest cash back apps out there. Ebates has been around for some time now and the service morphed from a pretty basic money back site into a behemoth.
Okay, so you get in-store coupons, but what else does Ebate give you? How about hot, daily deals delivered direct to the app? Do you want the latest information on sales and new coupon codes? Yes, they're there too. But what I really like is the ability to create a favorite stores list. Sure it's been done, but I prefer the look and feel of this function over that of other available apps.
---
12) Receipt Hog
The idea of earning money by simply taking photos of your shopping receipts is a pretty odd concept. It's also the basis for a very real app. The brains behind the app, ScoutIt, are touting it as "a fun and rewarding way to turn receipts from everyday grocery shopping into cash". Fun is probably stretching it a little, but easy? Yes. Very.
Receipt Hog works like this: you go shopping. Grab your grocery receipt and scan it into the system. You get cash back that can be redeemed as gift cards or money. Err, that's it. Simple, eh?
That said, like most companies, Receipt Hog gives you a couple of ways to earn. Paid surveys and there's also a chance to win money through what is called the 'Hog Slot Machine' – instant payouts of up to $1,000.
---
13) Viggle
Viggle is another great app that rewards your for simply kicking back and enjoying a huge selection of movies and music. All content is available as both streaming media and as a download to your TV, media center of mobile device. The mechanics behind Viggle are pretty simple: download to your iPhone, create an account and then browse for your preferred movies or music.
For every minute you watch or listen to a selected film or song a point is added to your account. Your points can then be redeemed for rewards like music downloads, gift cards and more.
---
Other iPhone Apps For Your Consideration
AppJoy / AppNana
With AppJoy / AppNana you can earn points for watching app trailers. Points can then be converted into PayPal cash or redeemed for iTunes or Amazon gift cards. Note that gift rewards are only valid for U.S. accounts.
---
Bamboo Wallet
Bamboo Wallet allows you to complete simple tasks (such as watching videos, liking Facebook pages, downloading apps and signing up for offers) to earn JunoCredits. You can then redeem your JunoCredits to receive gift cards for popular online retailers including Amazon, eBay and iTunes.
---
IconZoomer
IconZoomer is a global community of Trendspotters. The premise is that you use your iPhone to complete assignments, such as taking a photo of your dinner or your shoes. You then send in the photos and receive credits in return. Most assignments are worth 5-10 points, and 200 points earns you about 10 Euros.
---
TokenWall
TokenWall for iOS is a very simple app. No thrills, just the chance to make some fast cash. Visit the website, enrol your iPhone, browse the library of apps and then simply install and have fun. In return for your heroic effort you'll be rewarded with a selection of gift cards or prizes.
---
Inbox Dollars
Another app that lets you earn in a variety of ways, Inbox Dollars is similar to Field Agent. Shop online, take surveys or simply play games in order to build up a pot of money that can boost your earnings. One point to note: a Paypal account isn't required for this service - checks are mailed to you.
---
Conclusion
We have featured a selection of the most popular and best iPhone and iPad apps that can be used to increase your bank balance. There are more out there, with new ones launched every week. Sure, they're not going to make you rich. But, at a time where we are all having to tighten our purse strings and be ever-conscious of our lifestyle budget, a little extra cash always seems welcome.
So, give them a go and do leave your comments below on which you like the most.
Written by James Redden and Alastair Hazell
Rate this article
Please rate this article using the star rater below. If there is anything missing from the article, or any information you would like to see included, please contact me.
---
Your comments
Featured article
From abacus to iPad, learn how the calculator came about and developed through the ages. Read our featured article.