Why I've Chosen Ezoic as a Partner
People often ask me how I manage to fund my website, so I thought I'd write a little article about this today. To be able to dedicate a large amount of time to a project like this, and cover the costs associated with it, you need to be able to find a way to fund it. And with online publishing, you have a number of choices, with the main ones being:
Include advertising
Add a subscription service
Accept donations
Become a Tom Cruise impersonator in your spare time
Since the invention of ad blockers, life has got a whole lot trickier for publishers to earn money from their websites; not quite Mission Impossible, but difficult nonetheless. In doing some research in 2016, I came across a platform called Ezoic. To quote from their website:
"Ezoic is an automated website testing company that enables publishers to evaluate and optimize ad placements and website layouts. Utilizing AdSense and DoubleClick Ad Exchange, Ezoic helps publishers maximize revenue and improve user experience across desktop, mobile and tablet."
Having read some case studies about how they'd helped publishers increase their advertising revenue to fund their websites, I ran a trial with them. The results of the trial were impressive - a significant rise in advertising revenue over Google Adsense alone. It wasn't a difficult decision to make the full switch to them, especially as their service is effectively free (they make money by placing a small ad at the bottom of your pages).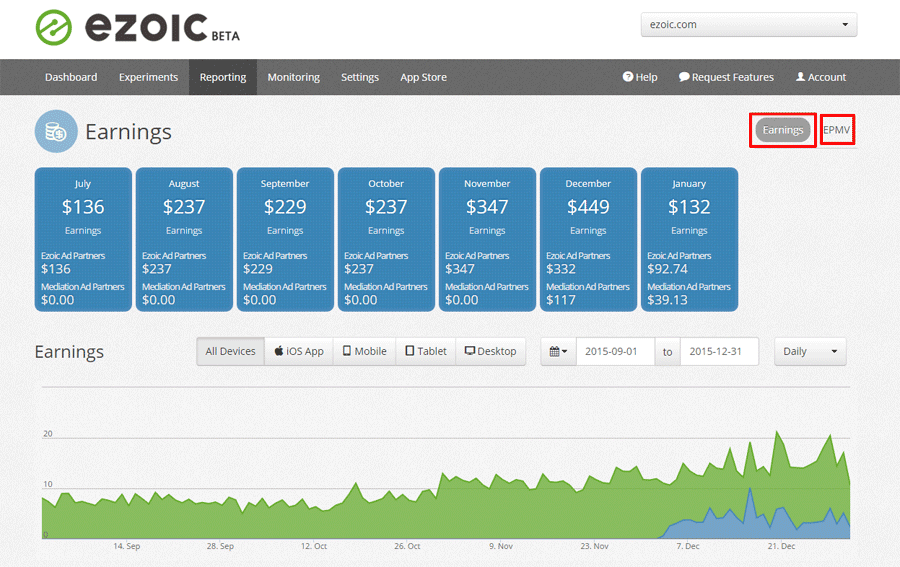 My partnership with Ezoic has continued to this day. And the software and services they have developed for publishers are impressive. From automated features to help improve site speed to in-depth reporting tools. It's not all about the Color of Money.
Recognising that improving my website is a win-win, Ezoic's dedicated Account Managers have helped give me support and ideas when I've needed them. And through their Big Data Analytics tool, I've had access to reporting over and above that of Google Analytics, allowing me to delve into earnings per page and act to optimise underperforming pages. It really has been a complete package of tools and support.
Far and Away their biggest feature, however, has been their Ad Testing tool. This has allowed me to test a wide variety of different ad sizes and placements on all sizes of device, from mobile to desktop. From its computer-learning, the Ad Testing tool recognises which placements and ad sizes are most effective for each page. This comes from their algorithm testing thousands of variations across hundreds of thousands of page views, constantly monitoring outcomes and maintaining user experience. This, in itself, has been key for me - your user experience must always come first.
"Anyone can add ads to a page, but that's just short-term. What Ezoic does is use analytics to make sure that the user experience is superior. We're tackling the enormously complex task of balancing user experience, content, and monetization. And we're doing it through data that spans all platforms." –John Cole, CCO, Ezoic
There's no doubt for me that Ezoic has proved to be a real find and an important partner in The Calculator Site's journey. I'm very happy I switched to using them - they've been an integral part of allowing me to dedicate more time to building and improving the tools on my website. A win for them, a win for me and a win for you. Win-win-win (the perfect Cocktail).
Should you wish to follow my recommendation, you can find out more and sign up with Ezoic here (disclosure: this is an affiliate link, but my review is an honest one).
---
---
Your comments
From abacus to iPhones, learn how calculators developed over time.