iPhone and iPad Apps That Actually Make You Money
Article Category: Finance
Last updated: 25 June 2014
Over the past 6 years, smartphones have seen a rapid rise in popularity. Companies such as Nokia, unable to cope with the rise of handsets such as the iPhone, have seen a steady decrease in sales of traditional cell phones.
Every month, a new handset crashes through into market place promising eager fans an ever increasing slew of features to help make our lives easier. Every vendor has its own app store that allows owners to download the latest, greatest add-ons. But there's a common theme - most of these mobile applications have been created with the sole intention of making its developer money.
So what about you? Have you ever wondered if there was a way to make some easy cash without learning the art of development? If so, then maybe it's time to start looking at apps that can actually make YOU some money. If you're an Android user, take a look at our money making apps for Android. If you're an iPhone user, read on...
Earning Perks
Image from
perk.com
Perk is one of the most popular mobile rewards programs available on iOS and Android. The premise is simple - download the free app and then use it to earn points when you shop, search, watch videos and share stuff with your friends. When you have enough points, redeem them for rewards such as cash, gift cards or airline miles.
Perk Shopping is becoming increasingly popular with brands who are looking to market their products to new audiences. The website claims to have more than 3,000 stores listed in the Perk Shopping app and you can shop and find coupons from brands including Target, Macy's, Best Buy, Groupon and more.
And you're not just limited to shopping. You can also download Perk rewards apps for search (Perk Search) and video watching (Perk TV).
Paid-To-Take Surveys
Image from
survey.com
Back in the mists of time, long before smartphones appeared, market research was a drawn out, tedious task. Sure, you got paid for taking part in a survey but the process was far from simple and you normally had to wait what seemed like an age to be paid. Good bye bad old days, hello survey.com.
In the early days, this app was pretty limited but, more recently, there's been an explosion of companies wanting to find out what their customers think of goods and services provided.
There is a payment threshold of $7.50 and you're normally paid within two days of completing a survey. Money is sent via PayPal which makes survey.com a fast and efficient way of making some easy money.
Social Love With Wikets
The world has gone social media mad. Seen something that makes you smile? Then make sure you 'Like' it on Facebook. Found an interesting snippet of thought-provoking conversation? Well, don't forget to retweet it on Twitter. Social sharing is making ever deeper inroads into our lives.
Here comes Wikets, an app that can earn you money every time you vote up a product that other people have recommended. Simply voting for the goods you like can earn you a $15 Amazon gift card. That's pretty impressive for simply telling people what you like. One of the really nice features of Wikets is that it lets you know about products that you may not have heard of before. The voting mechanism is actually a really good indicator of the quality of what you're buying.
Money Back From Shopkick
You want a new flat screen TV but you have a dilemma: it's about $200 more than you can really afford to pay. Now, in most cases, the sensible option would be to put off your purchase until you have more money. This is where Shopkick comes to the rescue with a massive selection of incentives.
This app, which is also available for Android devices, gives you incentives; "kicks". Every time you you check in at a specific shop, scan or purchase an item you are rewarded with a kick. These kicks can then be exchange for discounts that are sent out by participating retailers. And if that wasn't enough, you can earn extra kicks from referring friends - the Shopkicks app can send messages to your contact list or connect to your Facebook account (if you allow it).
Breaking Into Advertising With Jingit
Image from
Jingit
Let's be fair and admit that, in the grand scheme of life, we're all a little bit lazy. Sure, there's nothing wrong with kicking back and doing nothing every once in a while. But we're always being told that you don't get money for nothing. Well, not unless you're using Jingit.
Jingit is very simple and very effective - simply sign up using your Facebook account. Your profile page will then be used as a kind of digital billboard (Jingit is a paid advertising platform). Don't panic - your profile page isn't going to be littered with hideous banner ads - it's a lot more subtle than that. In return for renting space on your profile page you'll get paid. The amount you get varies depending on how many people click on the ads, but the result is the same - money for nothing.
iPinion Wants Your Opinions
Unless you can work for 24 hours a days, 7 days a week solid, then taking surveys isn't going to make you rich. But, sometimes, it's not just about the money. Some of us have an opinion that we want everyone to hear (helping protect fellow shoppers from buying overpriced junk is one of the simplest ways we can help each other out).
Like survey.com, iPinion is a paid survey app. Every time you complete a survey you will be awarded credits. These can then be redeemed for gifts cards or cash. Like survey.com, you can complete a survey any time - even when you're standing in line waiting to pay. In effect, you're giving almost real time feedback.
FeaturePoints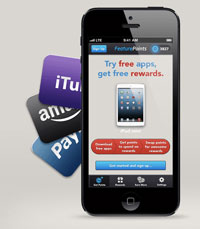 Image from
FeaturePoints
If you're someone who likes to try new mobile apps then FeaturePoints for iOS and Android devices might be worth a look. FeaturePoints rewards you with points for downloading free apps.
As your earned points increase you can redeem them through PayPal, Amazon gift cards and iTunes gift cards. There are also other rewards, such as a referral bonus (you receive 50% of the points earned by anyone you refer).
Be aware that you have to do a little bit more than just install the free apps that you download - you have to use them for up to a minute and complete any available registrations or tutorials.
Other iPhone Apps For Your Consideration
AppJoy / AppNana
With AppJoy / AppNana you can earn points for watching app trailers. Points can then be converted into PayPal cash or redeemed for iTunes or Amazon gift cards. Note that gift rewards are only valid for U.S. accounts.
Bamboo Wallet
Bamboo Wallet allows you to complete simple tasks (such as watching videos, liking Facebook pages, downloading apps and signing up for offers) to earn JunoCredits. You can then redeem your JunoCredits to receive gift cards for popular online retailers including Amazon, eBay and iTunes.
CheckPoints
CheckPoints calls itself "the app that pays you back." The premise is simple - scan products when you go shopping or watch videos, take surveys, play games and complete offers to earn points. You can then redeem your points for gift cards, airline miles, must-have electronics or donate to charitable causes.
IconZoomer
IconZoomer is a global community of Trendspotters. The premise is that you use your iPhone to complete assignments, such as taking a photo of your dinner or your shoes. You then send in the photos and receive credits in return. Most assignments are worth 5-10 points, and 200 points earns you about 10 Euros.
Conclusion
We have featured a small selection of iPhone and iPad apps that can be used to increase your bank balance. There are more out there, with new ones launched every week. Sure, they're not going to make you rich. But, at a time where we are all having to tighten our purse strings and be ever-conscious of our lifestyle budget, a little extra cash always seems welcome.
Written by James Redden and Alastair Hazell
Copyright © The Calculator Site
---
Your comments
Featured article
From abacus to iPad, learn how the calculator came about and developed through the ages.