4 Cars That Show The Dramatic Rise In The Cost Of Living
---
Inflation may be hovering around 2% but how much is it costing you over the years? Today we're going to look at how prices have risen through the eyes of a motorist.
Here are 4 classic cars that give you indication of how much the cost of living has risen over the past hundred years or so. We're basing the figures on a 2012 median yearly income of $50,000 (U.S. Census data).
Model T Ford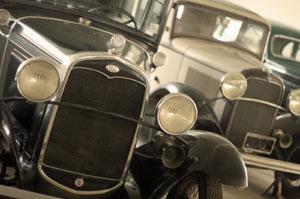 An all time classic, the first Model T Ford went on sale in 1909 for $240 (that would have been about £50 back in the day and before we add the effects of inflation.)
Even by the standards of the early 1900's, the car was relatively cheap and that was the idea. Henry Ford took ideas from meat packing lines to create the world's first assembly line for cars.
Before Ford's innovations, the average car would cost over one thousand dollars, putting automobiles well above the reach of most families.
The average salary of a U.S worker back in 1909 was about $944. Buying a new Model T meant giving up about one quarter of your wages.
But how much would this car cost today? Taking inflation into consideration, if this car went on sale today it would set you back about $20,000 (or just under one half of the average household income in 2012).
Jaguar E Type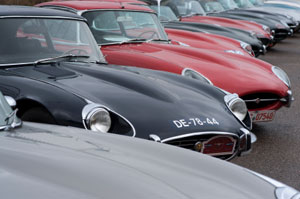 The Jaguar E Type
There are very few cars in the world that can be called iconic. The Jaguar E Type is a member of this exclusive club. Back in 1961, this sports car would have cost you a 'mere' $5900.
Before we even start to look at the numbers we know that this is an expensive car. But that was the idea. Jaguar had a reputation to uphold: the toys of the rich and famous.
The construction of the E-type reflected the target marker. Beautiful lines and symmetry put the car years ahead of its competitors. The 3.8 litre engine was capable of a top speed of 149.1 mph and could accelerate from 0 to 60 in just over 7 seconds (a feat most modern cars still can't match).
Back to the numbers. The average U.S salary in 1961 was about $5,315 a year. Buying this car would cost the average American just over 13 months wages.
But how much would it cost today? If Jaguar relaunched the E-Type today with a price tag that takes inflation into consideration, it would cost you just under $69,000 which is just over 16 months salary (in 2012).
Aston Martin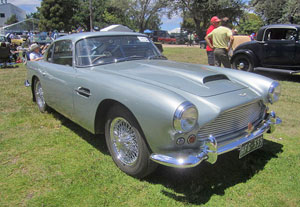 A 1961 Aston Martin DB4.
Aston Martin - the name conjures up images of opulence, wealth and mystery. Oh, and Bond... James Bond!
It's hard to find a price for the first ever Aston Martin to roll off the production line in 1913, so we've chosen the 1960 DB4 - $11,266.
Like the Jaguar E-Type, the DB4 was made for pleasure. The market for Aston Martin was, and still is, the connoisseur. Each car is hand finished to the exacting standards demanded by the rich and famous who flock to buy them.
Unusually, the DB4 wasn't built with speed in mind. In fact, compared its stablemate, the E-Type, it was actually pretty slow. The 3.7 litre Tadek Marek engine could 'only' manage a top speed of about 139 Mph. The E-Type also won hands down in the acceleration stakes with the DB4 eking out a measly 0 to 60 in 9.3 seconds!
In 1961, U.S salaries averaged roughly the same as a year earlier. This meant that the average American would have had to fork out 2 years pay for the pleasure of driving one of these luxury automobiles.
Fast forward about 50 years and the DB4 price tag sneaks in at just under $86,000! That means you need to fork out 20 months of salary to even be in with a chance of hobnobbing with the jet set.
Ferrari 250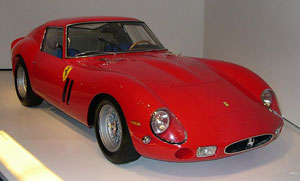 1962 Ferrari 250 GTO From the Ralph Lauren collection.
Ferrari is a name that has long been associated with high speeds and astronomical price tags. This is one owners' club that has always been incredibly exclusive.
When the very first Ferrari 250 went on sale back in 1962, the price was a whopping $18,000.
For a man who had no intention of building road cars, Enzo Ferrari has earned himself a seat at the table of automobile manufacturing heroes. Scuderia Ferrari, as the company was first known, was launched with the sole aim of training and sponsoring drivers of Alfa Romeo sports cars.
From day one, Ferrari made headlines with their phenomenal speeds - the 250's top end was about 173 mph. Coupled with blazing 0 to 60 in just 6.1 seconds, the Ferrari was, and still is, an automotive marvel. One of the keys to Ferrari's achievements was the incredibly low weight of his cars (the 250 was about half the weight of Jaguar's XK Straight 6).
The average family income in 1962 saw a modest rise to about $6,000. At $18,000, you and your loved ones would have spent 3 years wages on this car.
Bringing those figures up to date, the Ferrari 250 would cost roughly $135,633 - 32 months of household income.
The last two examples suggest that, in some ways, the cost of motoring inflation is actually on a downward trend. Don't be fooled: in early 2012, an immaculate example of the Ferrari 250 sold at auction for over $30 million!
Should you be looking to finance a new vehicle purchase of your own, check out the car loan calculator tool.
Written by James Redden
Rate this article
Please rate this article using the star rater below. If there is anything missing from the article, or any information you would like to see included, please contact me.
---
Your comments
Featured article
From abacus to iPad, learn how the calculator came about and developed through the ages. Read our featured article.