Android Money Saving Apps That Will Turbocharge Your Budgeting Skills
---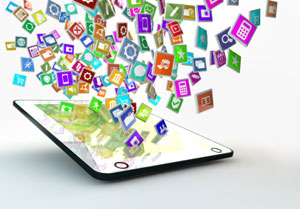 Not so long ago, we ran a feature on the best budgeting apps for your iPad and iPhone.
Now, because we don't want to be accused of favouritism, we've decided to look at some options available for Android platforms.
So, without further ado, here are our favourite money saving apps you can download for free on your Android smartphone and tablet, together with links to the apps on the Google Play Store for quick and easy download.
Shopsavvy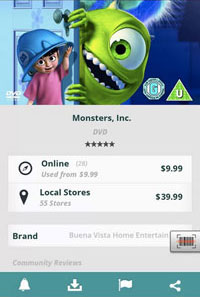 The Shopsavvy app has been available for quite some time now and if you haven't already installed it then you're definitely missing a trick.
This isn't a budgeting app, but it will help you save a lot of money off your monthly bills. Let's take a quick look at what it has to offer.
At its heart, Shopsavvy is kind of like having a daily deals website in your pocket. The application uses a barcode scanner coupled with a price comparison model to find the best deals on the products you scan.
But if store hopping just to get the best deals isn't your idea of fun then you'll be pleased to hear that the app also has a search engine.
Tap in what you're looking for and Shopsavvy will display a scrolling list of the cheapest prices.
MoneyWise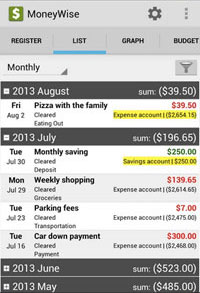 MoneyWise is a complete money management tool for your Android device.
Unlike Shopsavvy, it's designed to help you control you budget rather than spend it. One of the features we really like is the support for multiple currencies which makes tracking payments simple for anyone who regularly travels and shops in foreign countries.
There are two distinct versions of this application: the free and premium. As you'd expect, the free option has restrictions: multiple accounts, expenses, budgets and exports are restricted. Most annoyingly, the app displays ads. We don't have a problem with developers earning money from the freebie apps but the advertisements can be irritating.
We highly recommend you spend the $7.99 for the premium option and unlock all the functionality.
SnipSnap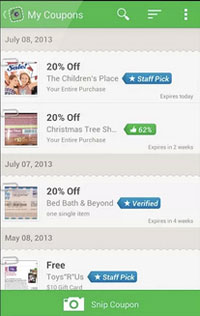 There's been a lot of noise about the fact that Double Coupon Checker isn't available for Android smartphones. We agree with much of the sentiment, but don't let that hold you back because Google Play has some great alternatives. One of the most talked about right now is SnipSnap.
The developers behind SnipSnap have termed themselves, "the Swiss army knife for coupons" and we have to agree it's a pretty versatile app. But where it really comes into it's own is through a social media-like ability to share coupons between, well, anyone you're connected with.
It's incredibly simple to use: simply scan your coupons and that's it. Behind the scenes, things start to get a little more interesting. The obvious feature is expiration notifications which will warn you when your coupon is about to expire. Even more useful is the apps 'ping' feature: when you've entered a store for which you've stored coupons in SnipSnap your phone will alert you just to make sure you never miss out on any potential savings. Whilst most restaurants and retailers will work with SnipSnap there is currently no support for manufacturers' coupons. But, it's free and probably one of the best apps of its type.
EasyMoney
There a huge number of budgeting apps available for free at Google Play. Not long ago, it was easy to choose which app you wanted - you simply downloaded the one with the most features and largest number of positive reviews. EasyMoney is one of those highly rated, feature-packed apps that you really should check out.
In terms of functionality, the budgeting features are only a small part of what is a big application.
Like MoneyWise, you can track expenses, payments and upcoming bills. Reports can be generated that show you exactly how you spend your money and these reports can also be exported in spreadsheet format.
Because EasyMoney has so many features it can be a little unwieldy as a budget tracking tool. The premium version is also more expensive that MoneyWise and will set you back $9.95.
Toshl Finance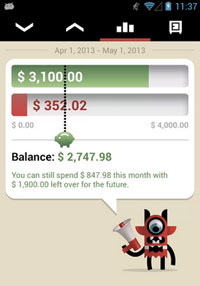 Last up is Toshl Finance which takes a slightly more cheerful approach to budgeting (and we all need a little fun when it comes to money). A range of characters (including a little cartoon devil who appears when your bank account is looking a little listless) and colourful icons and visualizations are used to differentiate the health of your finances and bring a little cheeriness to you budgeting.
In terms of functionality, Toshl Finance is excellent: it pretty much has all the same features as Easy Money and MoneyWise. But, like the latter, the free version is ad supported which can be a little irritating. Unlike Easy Money, the app is totally focussed on budgeting with the option to add and organize your expenses, compare and contrast monthly incomings and outgoings, tag them and export to spreadsheets and a whole lot more.
The only bugbear with Toshl Finance is the price of the pro version – a whopping $19.95. We know it's not a massive price tag but it's a lot more expensive than Money Wise and Easy Money.
Written by James Redden
Rate this article
Please rate this article using the star rater below. If there is anything missing from the article, or any information you would like to see included, please contact me.
---
Your comments
Featured article
From abacus to iPad, learn how the calculator came about and developed through the ages. Read our featured article.